Kristallnacht, or "The Night of Broken Glass" is one of the most profound horrors of the last century, an event that rocked Berlin and the surrounding communities, regardless of race and religion.  It took place on November 9-10, 1938, and remains vivid in the minds of many.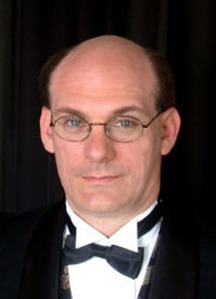 This Friday, Beth Shalom of Whittier will host a special evening service to mark that anniversary and commemorate those affected, with a carefully conceived program by Cantor Lance H. Tapper (pictured).  This "service in the German choral tradition" brings the spotlight to repertoire that is somewhat lesser-known in the US, but reaches back to the decades before Kristallnacht to include music from Lewandowski, Sulzer and others — contemporaries of other great German and Austrian composers of the 19th century.  "Schubert, Mendelssohn… those guys all knew each other," Cantor Tapper tells us.  The entire service will be presented with elements of how it would have been done at that time.  This includes the tradition of strict timing, with the service starting "bang on-time" and ending just one hour later.  (So get there early!)
While much of the service's music will be in Hebrew, as is most common here, some of it will be in German.  Even for those raised in the faith, there will be much to explore:  "Jews will have heard bits and pieces, but probably haven't heard the choral verses," the hazzan says. The music will be presented by the temple's professional choral ensemble, with Mark Peterson conducting from the keyboard.
There will be other ways to experience that specific point in culture, as well:  an Oneg Shabbat (a gathering with snacks and beverages to celebrate the Sabbath) after the service will feature traditional German goodies like Sachertorte, Strudel…
Yum.  It's like a "good parts version" of an often great culture.  What a beautiful way to turn terror into celebration.  The service is open to the public, and is free of charge.A Kristallnacht anniversary service brings Jewish music to light as German tradition
In Remembrance of Kristallnacht
Friday
November 11, 2016
7:30pm
Beth Shalom of Whittier
14564 Hawes Street Whittier, CA 90604
Parking – 14545 Mulberry Drive